The healthcare field is constantly expanding and individuals considering a health degree commonly ask "what can I do with an MHA degree?"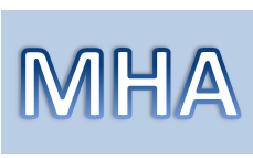 Why Earn An MHA Degree?
A Masters of Health Administration degree is an alternative to medical school, and students asking "What can I do with an MHA degree?" should be encouraged that the MHA degree prepares students for upper-level careers in the healthcare field. A bachelor's degree in a health related field is typically the prerequisite for this degree. MHA Programs provide students with the necessary knowledge for advanced managerial and planning positions in healthcare facilities. The program generally requires students to complete course work in various areas, such as health policy, organizational behavior, leadership, operations assessment, healthcare marketing, human resource management, and statistical analysis. Many programs also require students to complete practical experiences such as capstone components or internships. Additionally, some MHA programs require a thesis.
Examples of colleges and universities that offer top rated MHA programs include the University of Michigan, Trinity University, and St. Louis University. There are also numerous Online MHA Programs to enable working professionals to complete their graduate education while maintaining full-time employment.
What Can I Do With An MHA Degree?
A Masters in Healthcare Administration degree can offer you an array of career options including leadership and management opportunities. Many individuals who have earned a MHA enter positions associated with the regulation of healthcare, human resources, public relations, health policy, and operation management. Others seek career development to higher-level positions within in a healthcare facility, such as hospitals, nursing homes, outpatient care centers, and mental health centers.
Examples of possible positions, that may even result in a salary increase, include hospital administrators, clinical managers, and patient advocates. Hospital administrators are responsible for directing the daily operations of an entire medical facility or certain branch within the organization. Clinical managers complete both medical and administrative tasks to make sure a healthcare facility operates smoothly. Patient advocates provide assistance and representation to patients when dealing with doctors and other medical providers, insurance companies, and other issues.
For more information about the MHA degree including more answers to questions similar to "What can I do with an MHA degree?" <a title="About Best MHA Programs" href="http://www.best-mha-programs.com/about/" target="_blank">click here.