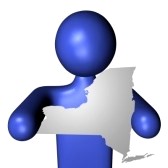 Students who wish to earn a Master of Health Administration should look into the top MHA programs in New York. The MHA degree prepares students for management positions in many different types of healthcare facilities. It provides students with a more advanced understanding of administrative policies and procedures.
Details about the Top MHA Programs in New York
Hofstra University and Cornell University are examples of New York MHA Programs. The MHA program at Hofstra University is offered at the Long Island, New York campus, and it requires 45 to 48 semester hours with 36 semester hours of core courses and nine to 12 semester hours of elective classes. Every class meets one evening per week, and elective courses are offered in the summer. Cornell University's master's in health administration program requires a minimum of 60 credit hours, including 48 core courses. It also requires a ten-week summer internship component and a capstone project. Cornell University also offers various related undergraduate options including a major in policy analysis and management. In addition to the campus-based programs, there are some online New York MHA Programs.
Financial Aid, Scholarships, and Online Options for The Top MHA Programs in New York
New York administers state-funded financial aid programs to assist students with paying for the cost of tuition and other related educational expenses such as room and board, fees, transportation, and food while attending a program at one of the  top MHA programs in New York. Examples of New York financial aid include the Tuition Assistance Program, NYS Educational Opportunity Program, and NYS Aid to Native Americans. There are also scholarships available for students enrolled in MHA Programs in New York, including the Corris Boyd Scholars Program and Albert W. Dent Graduate Student Scholarship.
Many of the top accredited New York MHA Programs offer online courses to allow busy students complete their graduate program in health administration while maintaining other obligations such as work and family. Some of the best MHA Programs online are offered on a part-time basis. The top MHA programs in New York, both on campus and online, are great options for students seeking to earn a Masters in Healthcare Administration.